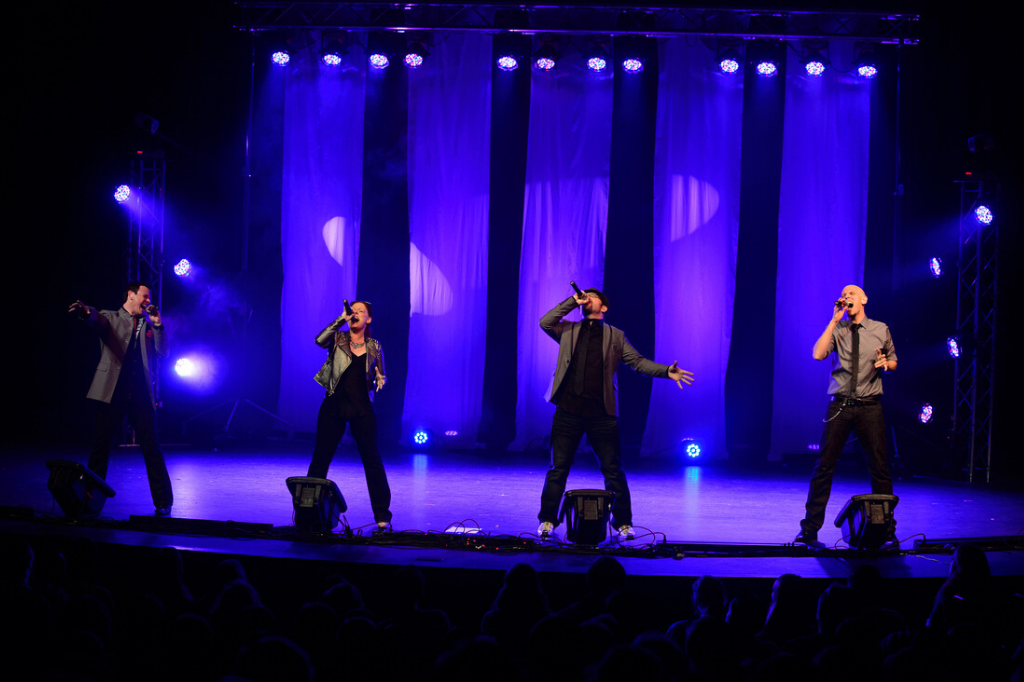 Four mics. Four mouths. That's it.
Blue Jupiter is coming to the Wildstein Center for the Performing Arts this Saturday, February 29, 2020 at 7pm. This incredible performance will show the pure talent of the international sensation Blue Jupiter. They use their voices and nothing else. No instruments, no tracks, just voices. They create the melody, the harmony, the backbeat; everything is made from their own mouths. Blue Jupiter is the cutting edge of a cappella. Their high energy and incredible talent and love of music truly shines in their performance. 
Think you recognize them? You probably do! Since their start in 2001, they've been on Oprah, Lifetime TV, and they're even the voices behind the OREO Cookie commercials! They have had the opportunity to work alongside artists such as Owl City, Third Eye Blind, Andy Samberg, Pentatonix, and more! Blue Jupiter has even had the great fortune of performing for brands such as Disney, ABC Family, Honda, Blue Cross Blue Shield, and many more! They have been to numerous countries across the globe and have performed in nearly every single state! 
Upon being asked about their favorite performance, female powerhouse lead singer, Diana Preisler refers to getting to sing for the troops; "the Fourth of July performance for 10,000 US Troops and families stationed at the Kadena Airbase in Okinawa, Japan." Leaving the second spot to "the time we sang for the Princess of Thailand and the ruler of the Philippines on New Years Eve in Hong Kong." Gene Simmons from KISS calls Blue Jupiter "the real deal". 
One night only, performing in Avon Park, Florida, this is a show you'll regret missing! You can get tickets online HERE. You can also call the Box Office at 863.784.7178. Kids tickets are only $10! Remember to support the arts so we can keep them!