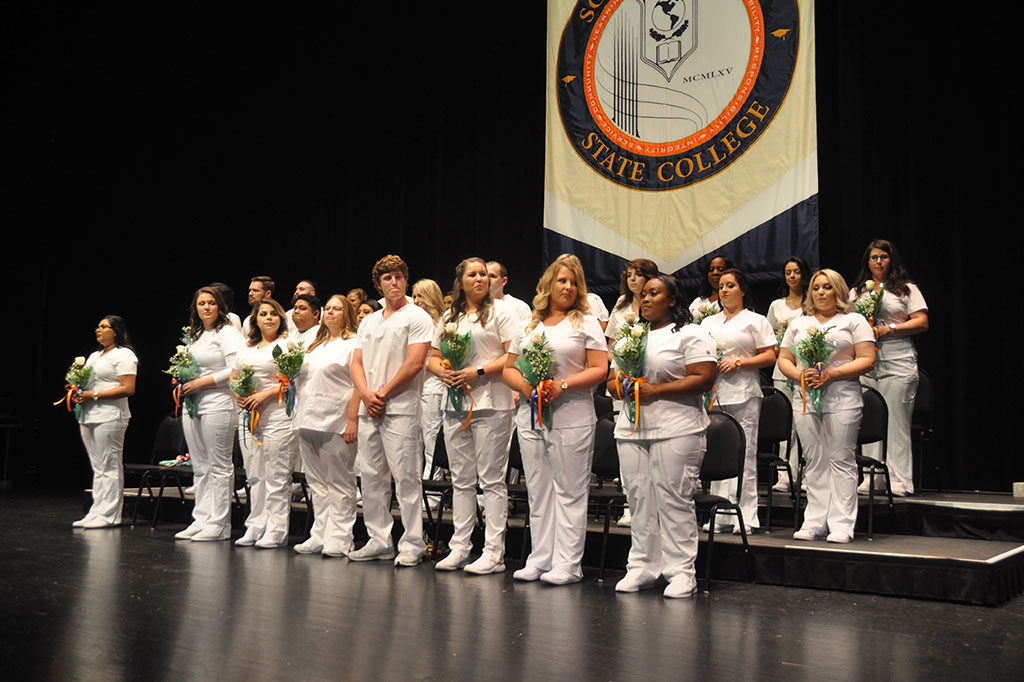 South Florida State College (SFSC) honored 29 graduates of its practical nursing program at a pinning ceremony on Thursday, Aug. 1 in the Alan Jay Wildstein Center for the Performing Arts in Avon Park.
Pinning ceremonies recognize nursing graduates for their accomplishments, emphasize their responsibilities as health care providers, and officially welcome them into the nursing profession. Having earned their occupational certificates in practical nursing, the graduates are now eligible to take the National Council for Licensure Exam for Registered Nurses (NCLEX-PN) and apply for practical nursing licenses from the Florida Board of Nursing.
The 2019 practical graduates are Ana Avila, Cassidy Beers, Jessica Boatwright, Evelia Cabrera, Crystal Carpenter, Kevin Coleman, Candace Dean, Megan DelPrete, Anquenette Evans, Xenia Gardner, Kyle Jahna, John Jimenez, Leydi Lopez, Julia Mack, Robert Mathews Jr., Erin McGlinchey, Danielle Minnick, Enma Miranda, Dominique Morales, Grant Morris, Jessica Morris, Israel Munoz, Heidi Palacios, Mary Reyes, Jennifer Salgado, Dianna Salinas, Terrion Salmon Worrell, Morgan Walters, and Amy Ward.
On behalf of the College, Dr. Sidney Valentine, vice president for academic affairs and student services, congratulated the graduates and spoke about inspirational six-word stories that Ernest Hemingway created as a challenging and expressive movement to tell a story in only six words. "When you look back on how it all started, I hope your six-word story is: The day I became a nurse."
Nursing instructor and keynote speaker Sharmin Jones is no stranger to the SFSC stage. She was the commencement speaker when she received her Bachelor of Science in Nursing from the College. On Thursday, she told a story about her late grandmother who motivated her to continue her education and become a nurse. She told the graduates, "There are many times you want to give up. We hit rock bottom and suffer in our lives, but that's more reason to keep on in your life. Don't let anyone or anything get in your way. Education will give you more opportunities for higher paying jobs."
Jones has been a nurse for 18 years and before she became an integral member of the SFSC Nursing Education team, she served as director of medical-surgical units for AdventHealth Sebring.
Class president Jessica Morris of Hardee County spoke to her fellow graduates about their training within the PN program and the focus on caring when she said, "The most important lesson was compassion. Not only for patients, but each other." She also spoke about their combined purpose by saying, "If one life breathes easier because you have led, then it was all worth it." To conclude, she ended her address with a celebratory, "We did it y'all," which was validated by hearty applause.
Graduates received their pins from a person of their choice, such as family members and friends. The ceremony concluded with the new nurses lighting candles to symbolize the impact they will make on the world and then reciting the Nightingale Pledge of nursing ethics, named after Florence Nightingale, the founder of modern nursing.
Graduates by county:
Hardee
Cabrera, Evelia
Lopez, Leydi
Mathews Jr., Robert
Morris, Jessica
Reyes, Mary
Walters, Morgan
Highlands
Avila, Ana
Beers, Cassidy
Boatwright, Jessica
Carpenter, Crystal
Dean, Candace
DelPrete, Megan
Evans, Anquenette
Gardner, Xenia
Jahna, Kyle
Jimenez, John
Mack, JuliaMinnick, Danielle
Miranda, Enma
Morales, Dominique
Morris, Grant
Palacios, HeidiSalgado, Jennifer
Salinas, Dianna
Salmon Worrell, Terrion
Ward, Amy

Okeechobee
Coleman, Kevin
Polk
McGlinchey, Erin
Munoz, Israel
Photo Courtesy of SFSC