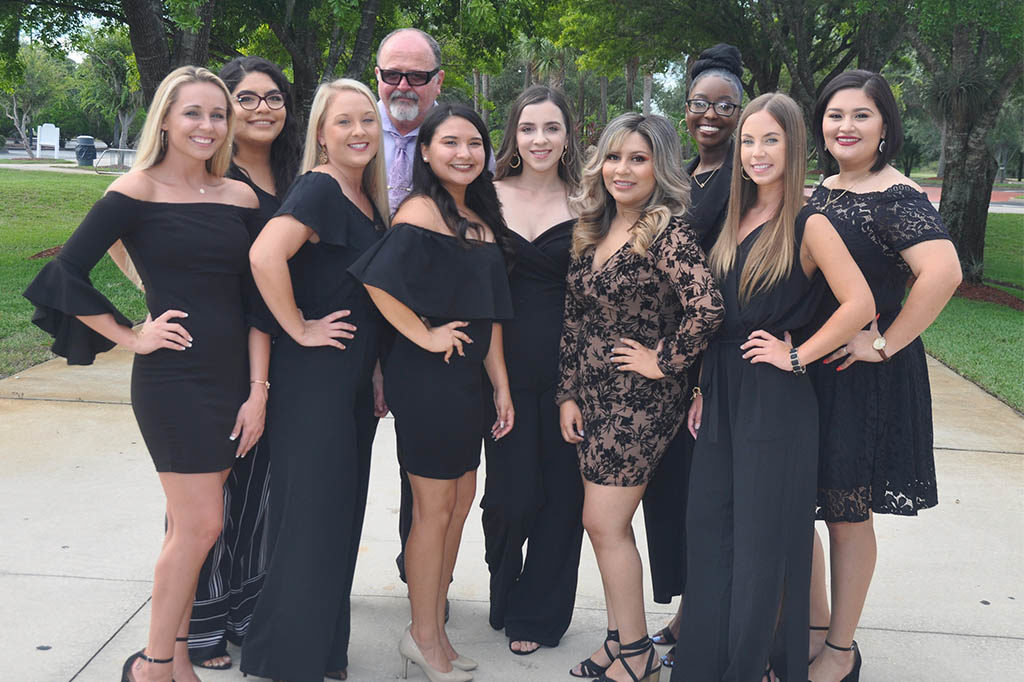 On, Wednesday, July 17, 2019, friends and families gathered at the South Florida State College University Center Auditorium to recognize and celebrate nine soon-to-be SFSC Alumni. This year's Dental Assisting Program Graduates were honored through a pinning ceremony. The graduates who received said honorary pins were Ashley Ayala, Hali Bohannon, Rachel Burton, Ashley De Santiago, Sebrina Gillilan, Julie Lopez, Jaynice Nance, Raquel Rodriguez, and Janet Sanchez. Each, deserving of acknowledgment for perseverance and the success of accomplishment.
     Greeting the audience and opening the pinning ceremony was Chair of SFSC's Dental Education program, Dr. Deborah Milliken. Dr.Milliken congratulated the graduates on behalf of herself and the faculty. The keynote speaker was Dentist, Dr. Stefani Allison of Winter Haven. 
Dr.Allison provides clinical experience for students in this program, and she inspired the graduates by assuring them of the importance of the role as an assistant within a dental practice. She commended her current dental assistants, who also graduated from SFSC's Dental Assisting program, stating that they make her "flourish". She promoted the concept of teamwork and its value to an office. Encouraging these graduates to apply such teamwork, she stated, "When you have a team that's always positive, you know that you will work with great people every day and that you can change patients' lives. When you always try to be a better member of the team, you make the dentist a better person and boss." She stressed good communication skills, organizational skills, and understanding the Dentist's procedures.
She emphasized that a dental assistant must be flexible within any office or clinical setting, because "healthcare is a lifetime learning process—it's always changing." Her words were full of truth and carved from experience. 
    Upon completion of the Dental Assisting program, graduates now have the opportunity to pass the Dental Assisting National Board Examination so that they may work as certified dental assistants. They are also able to qualify for the Expanded Functions Dental Assisting Certification, as well as Orthodontic Assistant Certification. All nine dental assisting
graduates have received a Florida Orthodontic Certification. SFSC also offers a two-year Associate in Science degree program in Dental Hygiene. Upon completion of this program, passing the National Dental Hygiene Board Examination and the Florida State Clinical Licensure Examination, graduates become Dental Hygienists. 
     South Florida State College takes great pride in its students and their accomplishments. Congratulations to the 2019 SFSC Dental Assisting Program Graduates! 
For more information on the dental programs at SFSC, call 863-453-6661 or visit southflorida.edu.