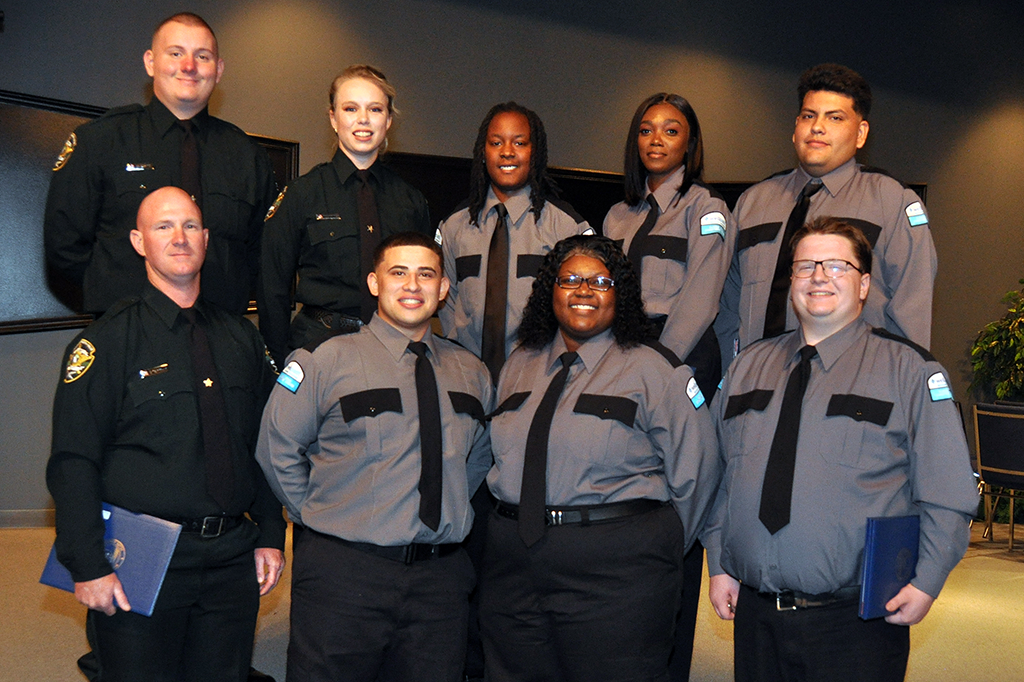 Criminal Justice Academy Graduates Nine New Corrections Officers
South Florida State College (SFSC) graduated nine new correctional officers on Thursday, Oct. 31, at the Highlands Campus in Avon Park.
Michael Austin, coordinator of SFSC's Criminal Justice Academy, called the nine cadets to the stage and handed each new officer a certificate. Those receiving a certificate were class leader Destiny McCartney, Shantal S. Anderson, Dakota Cardenas, Alfred G. Davis, Vierge H. Estine, Caleb Lott, Maximilian Martinez, Roger Stephan, and Katrina A. Tate.
Some of the cadets were singled out for their achievements during the 11 weeks of instruction. Earning top honors for academic excellence was Caleb Lott and for top firearms for his work on the shooting ranges was Alfred Davis. McCartney was given special recognition as class leader.
The cadets invited Jarrod Newsome, a correctional officer with Wellpath in Arcadia, Fla. and adjunct instructor with SFSC's Criminal Justice Academy, to be guest speaker for the ceremony. He is also a 2014 graduate of SFSC's Basic Corrections Class 184.
Addressing the audience, Newsome said, "These cadets came here a couple months ago and made a decision to better themselves. They have read countless sections on law and procedure, they learned how to conduct searches, they've been physically demanded to perform moves that could save themselves or someone else, they have been taught to shoot to protect, and they have been shown lifesaving techniques that could potentially save someone's life. 
"We are the iron," he said to the cadets. "We are shapeless and have no purpose. We are thrown into the fire, we are beaten down. Back into the fire, hammered down. Eventually, we become a link. As a single link, we can fulfill no goals—we can't pull up a bridge or even block a road. Together we are stronger than alone. Together we are a chain. We must endure that fire and hammer. We must proceed with that pounding. We must grow from that stress. It helps make us stronger and more capable of fulfilling our purpose. We need to look out for our fellow officers and those we see need help, because we may need help, too. Through all the pain and suffering you endured throughout this Academy, it helped you grow. It helped you become strong. I was sitting in those chairs just a few years ago. I graduated from the Academy and grew in my career. 
"Don't get comfortable, but always move forward and always motivate yourselves to keep pressing on. Keep taking that beating and that stress. It'll help make you stronger and grow. Basic Corrections Class 198—one team, one fight, together we conquer."
Upon successful completion of the SFSC 420 contact-hour Basic Correctional Officer Program, students earn a Career Certificate and are eligible to take the state certification examination to become a certified officer. For more information about this program or any other program offered through the SFSC Criminal Justice Academy, call Austin at 863-784-7282 or email Michael.Austin@southflorida.edu.
Photo:
Basic Corrections Class 198: (front, left) Roger Stephan, Maximilian Martinez, Vierge H. Estine, and Alfred G. Davis
(back, left) Caleb Lott, Destiny McCartney, Katrina A. Tate, Shantal S. Anderson, and Dakota Cardenas