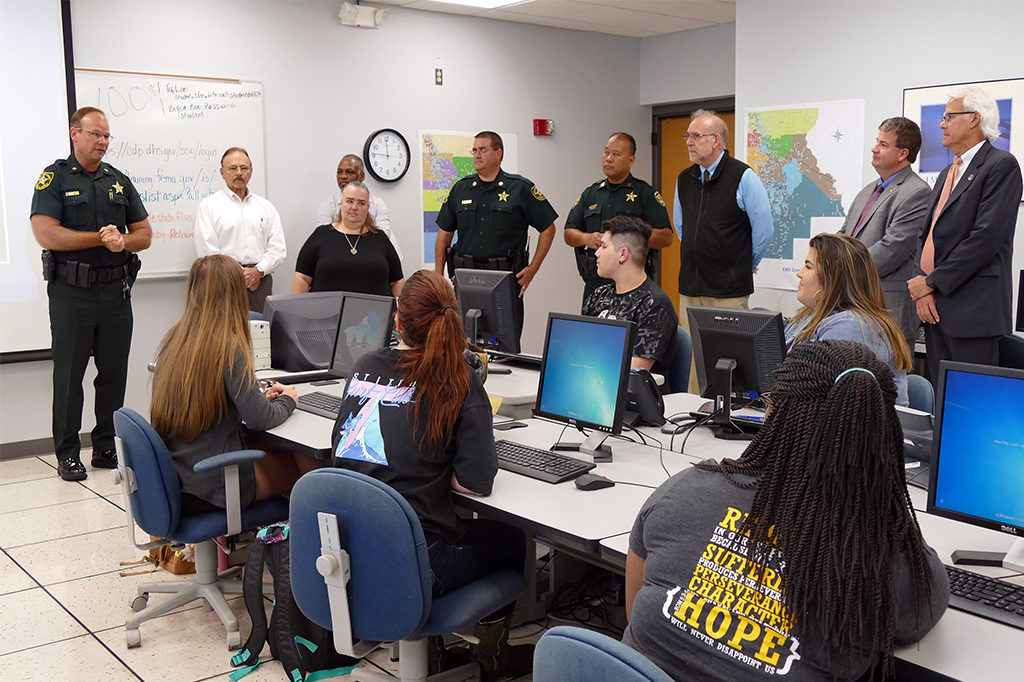 Highlands County Sheriff Paul Blackman and South Florida State College (SFSC) President Dr. Thomas C. Leitzel welcomed the Public Safety Communicator (PSC) students at SFSC on the opening day of the program —Tuesday, Aug. 13.
Through a partnership between the Highlands County Sheriff's Office and SFSC, the PSC or 911 Emergency Dispatcher program was developed to address the shortage of dispatchers throughout the district. PSC's receive emergency and non-emergency requests for assistance from citizens and relay them to law enforcement, fire departments, and emergency medical services and then dispatch assistance as appropriate.
Addressing the students, Sheriff Blackman said, "Several of you are looking at this as a starting point toward a career with the Sheriff's Office or another agency. You have every opportunity here. Dr. Leitzel allowed us to start this program at SFSC because our office has a severe need for telecommunicators. We saw this as an avenue to get to young people who didn't necessarily want to go to college, but wanted to stay in Highlands County and start a career that means something."
Dr. Leitzel called the first day of the PSC program a "Red Letter Day." "It's one of those outstanding days at the College that we want to share with the world," he said. "SFSC and the Sheriff's Office have a great partnership. I'm thrilled with all the wonderful things we do together."
Shane Smith, a 911 PST training coordinator with the Highlands County Sheriff's Office, is lead instructor of the 232-hour program at SFSC. Upon completion of the PSC program, students earn a Career Certificate and will have met the educational requirements for Florida Department of Health 911 Emergency Dispatcher Certification. A state examination is required for certification.
"To be a telecommunicator is an integral part in law enforcement and, basically, the first responders," said John Barcinas, Highlands County Sheriff's Department operations captain. "We need these individuals to receive the call and dispatch information to the fire department, EMS, or law enforcement. At this point, we're in need of telecommunicators."
For more information about the PSC program, contact Michael Austin, criminal justice programs coordinator, at 863-784-7282 or email Michael.Austin@southflorida.edu.
Photo courtesy of SFSC:
Sheriff Paul Blackman (left), Highlands County Sheriff's Office; Curtis Ivy, director of criminal justice programs, SFSC; Shane Smith, 911 PST training coordinator, Highlands County Sheriff's Office, and lead instructor, Public Safety Communicator program, SFSC; Michael Austin, coordinator of criminal justice programs, SFSC; Major Darin Hood, Highlands County Sheriff's Office; Captain John Barcinas, Highlands County Sheriff's Office; Erik Christensen, dean of applied sciences and technologies, SFSC; Dr. Sidney Valentine, vice president for academic affairs and student services, SFSC; and Dr. Thomas C. Leitzel, president, SFSC.