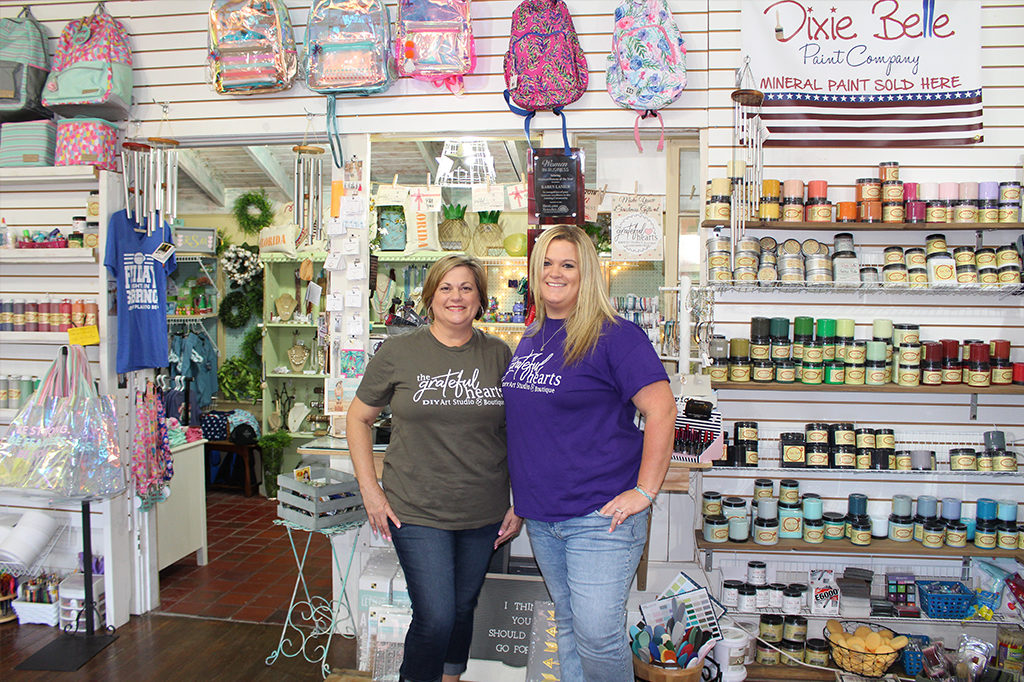 Mother-daughter duo Karen Lanier and Krystal Lanier Turner opened the doors of the Grateful Hearts in January of 2017 and have established themselves as the go-to DIY art studio and boutique here in Sebring. Their services range from DIY wood art classes to hand-picked gift shop items for sale, as well as clothing and more.
Karen and Krystal have always had a love for DIY art and home decor and a passion for sharing their ideas with others. Krystal has a background in graphic art and design and Karen is a painter and scrapbooker and both share a love for expressing their creative side. "This had been a dream for about eight years before. We were looking for a way that we could bring a creative experience to the area and a way I could also homeschool my son" says Krystal. The Grateful Hearts came to be when they decided to combine their talents together and create a space where other DIY lovers could come together to make friends and art in one place.
At the Grateful Hearts, you'll find over 2,500 designs to choose from to create beautiful home decor on some of their hand-picked wood and plenty of classes throughout the week to choose from. You can also find dozens of hand-picked gift options throughout the boutique as well as shirts, hats, and dresses. "We are very picky about what goes into our store. We search so hard to find things that you just won't find in Highlands County and we look for things that will bring a smile to someone's face when they receive it" says, Krystal. 
In addition to their services, Karen and Krystal are also philanthropists and encourage their community to give back. "Most of the companies that you'll see in the studio or boutique are ones that give back to children, women, and families with every purchase we make from them," says Karen. "Anytime someone makes a purchase they have the option to leave a tip. All of the tips that we collect are given to local charities" says Krystal. "We also do scholarships and last year we were able to help three students and we hope to see that grow," says Krystal. 
Since opening the doors of the Grateful Hearts, Karen and Krystal have made a great impact on Highlands County by not only providing a creative service and gift shop experience but through inspiring change in the local community. Be sure to contact Karen and Krystal today to book your class, team building, birthday party, shower and more.
Grateful Hearts is located at 1989 Lakeview Dr, Sebring, FL 33870.
By Amanda Torres