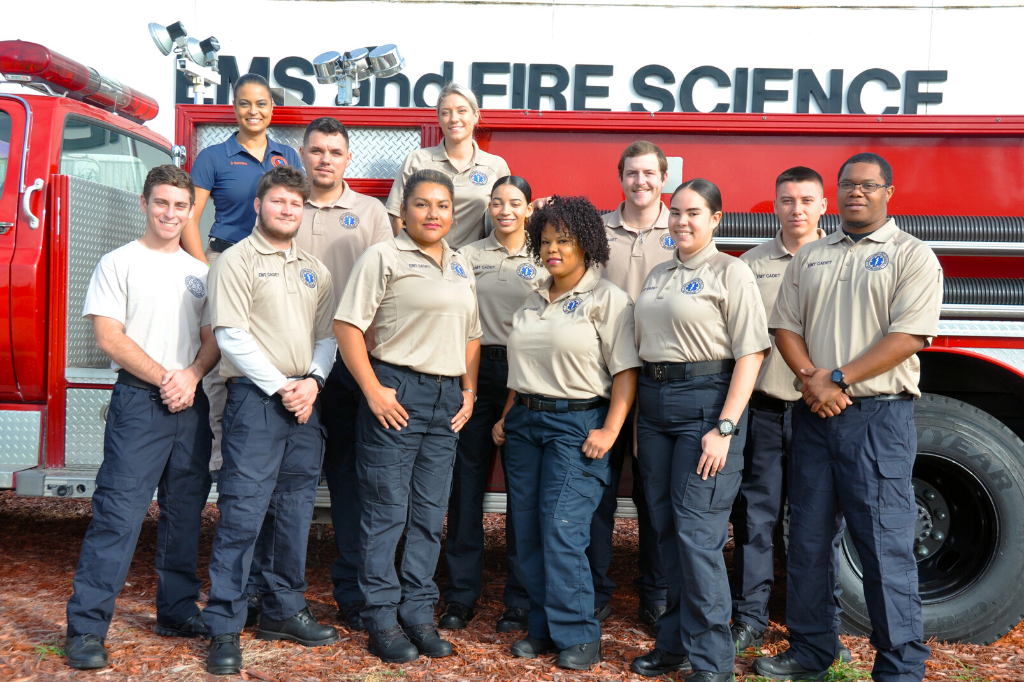 More Women Choosing SFSC's Emergency Medical Technician Program to Begin a Career
South Florida State College (SFSC) has seen far more women in its fall 2019 Emergency Medical Technician (EMT) career certificate program than in the past. In fact, eight out of 13 students in the class are women.
Jennifer Serrano, instructor in SFSC's Emergency Medical Services (EMS) programs, was a student at the College 10 years ago when the majority of the students were male. 
"EMS has been a predominantly male field," Serrano said. "But the culture has changed. It's great to see the shift of having more females who want to make this their career, pursuing their dreams, being mentors for other women, and giving back to their communities. Working in EMS is an exciting career which requires critical thinking, while challenging you every day."
According to the National Registry of Emergency Medical Technicians, men make up approximately 70% of the EMTs in the United States. 
"Over the years, we have seen more women entering the workforce," Serrano said. "SFSC's EMS program has also experienced that growth and it's had a positive impact on our recruitment. As an instructor, it's amazing to see such a diversified group of individuals in our program."
EMTs function as part of an emergency rescue and transportation team by responding to emergency calls through a dispatch system, operating emergency vehicles safely, assessing scenes of accidents or illnesses, setting priorities for treating patients based on their degree of illness or injury, providing pre-hospital emergency care to treat trauma, shock, wounds, and other medical issues.
SFSC's EMT program runs for 16 weeks. Upon completion of the program, graduates are eligible to apply to take the Florida EMT Certification Exam. For more information about SFSC's EMT program and other Emergency Medical Services programs, visit southflorida.edu or call 863-784-7272.
Photo:
(front, left): Jack Arseneau, Seth Hamilton, Nayeli Valerio, Valcine Jacques, Yeivette Ortiz-Quintero, Demetrius Gross
(middle row, left): Daniel Young, Teana Cunningham, Robert Choate, and David Espinoza
(back, left): Jennifer Serrano, instructor; and Erin Dowdal
Not pictured: Lindsey Day, Bridget Maddox, Courtney Moctezuma