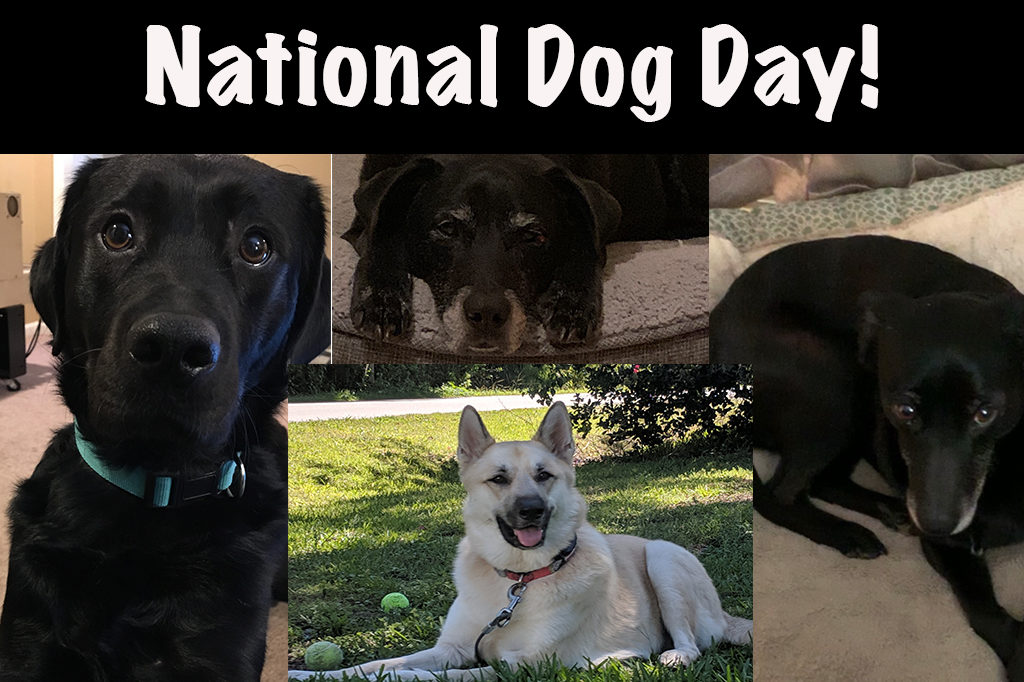 Monday will be no average Monday, this one is quite special – it's National Dog Day! Every year on August 26, National Dog Day encourages responsible ownership of all dogs, mixed or purebred, big or small. We want all dogs to be happy, healthy, and safe. 
On this day we celebrate our wonderful companions and all they do for us. Dogs are very beneficial to our lives. Dogs are able to help relieve stress, alleviate some depression, and make sure we get out for some exercise as well as numerous other abilities.
So today, let's be sure to show man's best friend a little extra appreciation! Between everyone here at the Rundown, we have quite a few dogs who range in age, size, and personality types. Each one of them has a few recommendations they'd like everyone to know about!
Little Miss Chica isn't afraid of anything and loves to walk and romp around and she would like to recommend a fun stroll through Highlands Hammock State Park! Walking the trails in Highlands Hammock is great for a dogs sniffer! With all the fun new smells, dogs get more mental stimulation and are generally happier.
Onyx, Chance, and Jack (and pretty much all our dogs) would like to recommend the Sun 'n Lake Dog Park and the Spring Lake Dog Park! Both of these parks have lots of room to run and play and tons of new smells so your dog can get exercise, mentally and physically. Sun 'n Lake has many big trees throughout the park which provide a good amount of shade so dogs and owners can retreat from the sun on hot days. Spring Lake has kiddie pools in both the big and small dog sections with a spigot to fill them up. If your dog likes sun and water, it's the place to be.
Thor wants to suggest getting a membership and taking your pup to Dog Designs by Dana's Bark Park off Thunderbird Road! Thor is very much a water dog with high energy. He is also an avid socializer and wants everyone to be his best friend. The Bark Park offers zones for pups like him who are high energy and social as well as an area for more docile, calm dogs. The Bark Park is a safe place for dogs of all types to ensure a fun and active lifestyle.
Gus is a bit of an older pup and enjoys the simpler things in life. For National Dog Day, Gus wants to recommend a new toy, bone, or treat, and a nice nap at home. Going out isn't always the best for every dog and Gus wants to ensure we all remember a night in cuddling with your best friend is time well-spent.
So share a picture of your best friend and what you guys like to do and use #SRundown!
by Erin Broderick