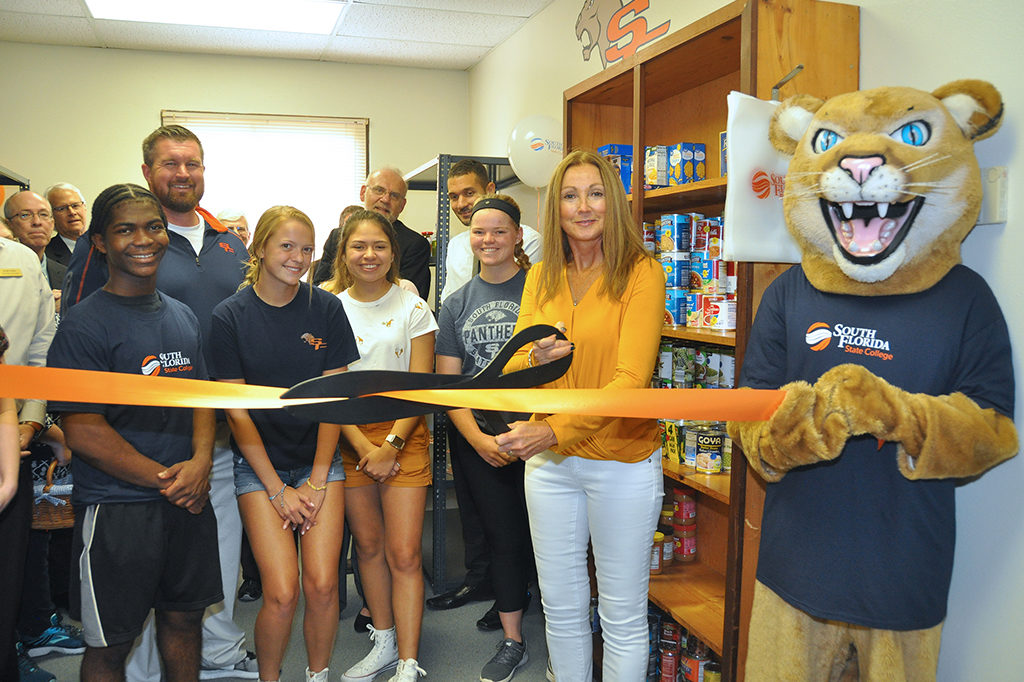 Opening of Pete's Panther Pantry
South Florida State College (SFSC) recently held a ribbon-cutting ceremony and grand opening of its new Pete's Panther Pantry on the College's Highlands Campus in Avon Park. In attendance were students, College administrators, and employees. Tami Cullens, chair of the SFSC District Board of Trustees, cut the ribbon to officially open the Pantry.
Pete's Panther Pantry, a partnership between SFSC and the SFSC Foundation, was established to assist students and employees in need of food and personal items. The Pantry offers a variety of non-perishable food items as well as pet food, feminine hygiene items, baby wipes, diapers, soap, and more.
The Pantry was developed in response to the epidemic of "food insecurity"—the lack of access to adequate amounts of healthy food— among college students.
"I have had students cry that they missed class or an assignment because they work two jobs to put food on the table for their families," said Cindy Kinser, professor in the Medical Administrative Specialist program at SFSC and one of the organizers of Pete's Panther Pantry. "Yet, they came to college to get off food stamps and make a better life for their children. When we have a homeless student who lives in their car and has little to eat, we need to help. To see the relief on the face of a student who has received food and can get more as needed, words simply cannot describe the satisfaction of being able to help them."
According to the 2019 edition of the Varying Degrees study by New America, the report found that 46 percent of current college students indicated that "often, or at least sometimes, in the last 12 months, the food they bought just did not last and they did not have the money to buy more." Students have to make difficult choices between buying food, paying for school fees, or buying diapers for their children.
In a December 2017 report by Katharine M. Broton and Sara Goldrick-Rab through the University of Iowa and Temple University, the authors wrote, "Efforts to increase college completion rates must be broadened to include attention to material hardship and shed light on this all-too-often hidden cost of college attendance."
College and universities across the country have or are establishing food pantries for students. SFSC and the SFSC Foundation began its appeal to employees for non-perishable food and toiletries in December 2018 before launching Pete's Panther Pantry.
Students and employees at SFSC can pick up food and personal items in Pete's Panther Pantry, located in the Panther Activity Center (PAC) in Building D, on the second floor above the Panther Gym, in Room 233. Hours are Monday and Thursday, 11 a.m. – 1 p.m. If students or employees cannot get to the Pantry during these hours, they may contact Andy Polk, student life coordinator, at 863-784-7435 or Kinser at 863-784-7325. Students at the Hardee or DeSoto campuses or Lake Placid Center may also request items from Pete's Panther Pantry by contacting Polk or Kinser. "We'll send food over," Kinser said.
Members of SFSC's Student Government Association are on hand to watch expiration dates on products in the Pantry to make sure all food is fresh.
To donate food or other essential personal items to Pete's Panther Pantry, drop items off at the PAC, Monday through Thursday, between 9 a.m. and 4 p.m. or in Building I, second floor, Room 202, Monday through Friday, between 8:30 a.m. and 3 p.m. To offer financial assistance, checks can be made out to: South Florida State College. Please put "Panther Pantry" in the memo on the check and send to the Cashier's Office, South Florida State College, 600 West College Drive, Avon Park, FL 33825.
Photo: Tami Cullens, chair of the SFSC District Board of Trustees, cuts the ribbon to officially open Pete's Panther Pantry.