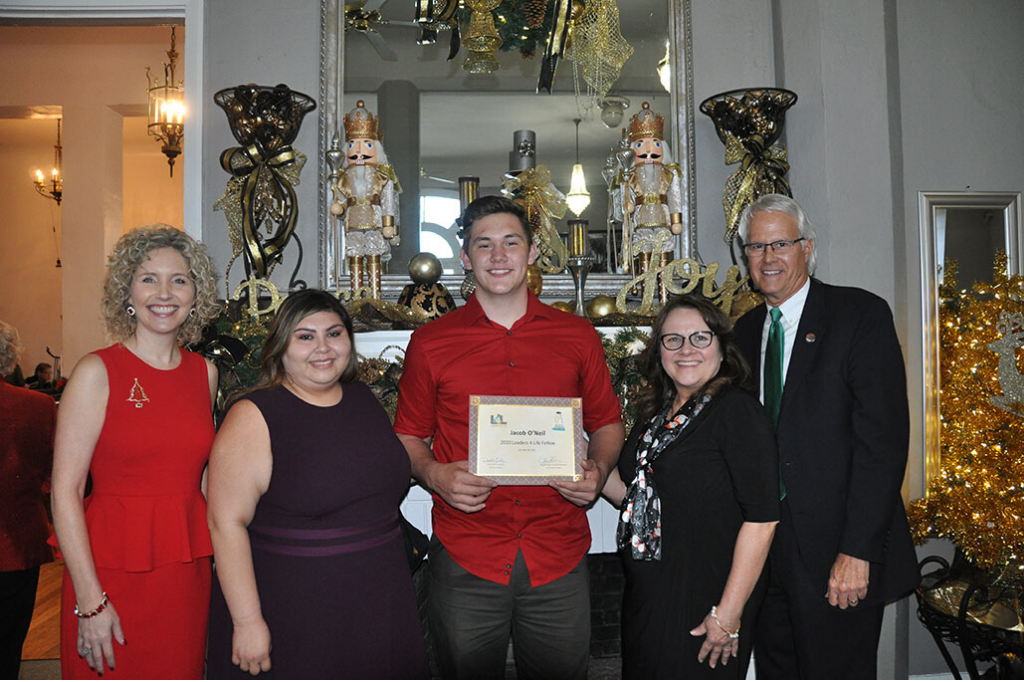 Sebring High School Student Receives Take Stock in Children Leaders 2 Life Scholarship
At the annual South Florida State College (SFSC) Foundation Christmas Luncheon on Thursday, Dec. 5, Jacob O'Neil was surprised when he opened the letter that announced he had won a Take Stock in Children (TSIC) $40,000 Leaders 4 Life Scholarship from the Asofsky Family Foundation. The crowd gave O'Neil a standing ovation for his accomplishment and expression of gratitude.
O'Neil was one of six students statewide who received the scholarship, an award that covers non-tuition expenses such as housing, books, and transportation. His tuition will be covered by a separate TSIC scholarship. O'Neil was eligible for the scholarship because of his participation in the local TSIC program. The program matches students at-risk of not completing high school with mentors who guide them toward earning their high school diplomas and onto college with scholarships in hand.
The Leaders 4 Life Scholarship is an initiative of the Asofsky Family Foundation, which supports programs aimed at helping the state's youth. The foundation awards the scholarship in partnership with TSIC. The SFSC Foundation is the lead agency for TSIC within the College's service district of DeSoto, Hardee, and Highlands counties.
"As Jacob read aloud to a room full of people that he was a 2020 Leaders 4 Life winner, his voice cracked, his eyes teared, and so did mine," said Danielle Ochoa, student services coordinator for the local TSIC program. "Always gracious, he recognized his mentor's weekly visits for the last five years and thanked the room for their support of the Take Stock in Children program. I could not be more proud of Jacob, his incredible work ethic, and awesome determination to chase his goals."
"When I received the Leaders 4 Life Scholarship I was simply overwhelmed with emotion," O'Neil said. "I was relieved, ecstatic, nostalgic, and most of all, grateful. I realized that having a purposeful and productive college life would be possible because I wouldn't spend the whole time working to pay every bill I had. Leaders 4 Life has shown me kindness and given me opportunities I never thought I would have."
O'Neil graduates from Sebring High School in May 2020 and plans to earn a bachelor's degree through the University of South Florida's (USF) MUMA College of Business. His ultimate goal is to join the U.S. Marines as an officer and become a member of the Marine Recon unit. Because USF offers an ROTC program for each of the armed services, O'Neil would like to enter its Marine ROTC program to prepare him for life in the military.
Since the inception of the Leaders 4 Life program, the local Take Stock program has had 13 finalists and, of those, seven have gone on to become winners of the $40,000 non-tuition scholarship. O'Neil is the 14th finalist and eighth winner. 
PHOTO (l-r): Jamie Bateman, executive director of institutional advancement for South Florida State College; Danielle Ochoa, coordinator for Take Stock in Children; Jacob O'Neil, Leaders 4 Life Scholarship Winner; Linda Roman, college success coach for Take Stock in Children; and Dr. Tom Leitzel, president of South Florida State College.