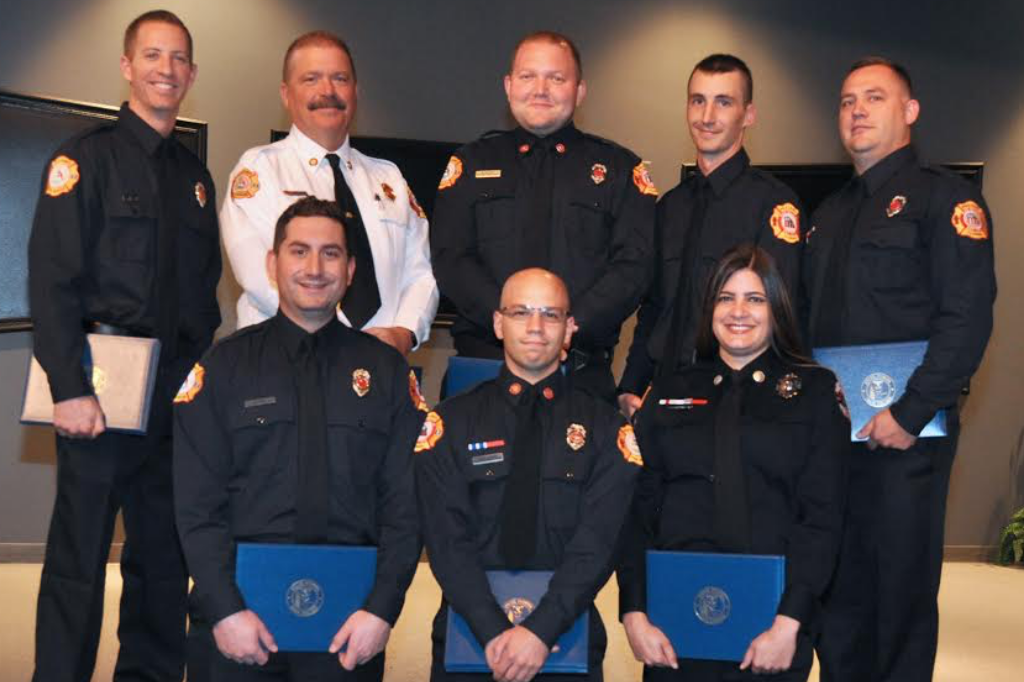 SFSC Graduates 10 from Paramedic Program
South Florida State College (SFSC) graduated a class of 10 paramedics during an evening ceremony at the SFSC University Center Auditorium at the Highlands Campus on Monday, Nov. 4.
Receiving their paramedic certificates were Kevin Alexander, Jamael Autry, Robert Bohn, Nicholas Gregorio, Kaleb Leon, Nicholas Minervini, Michael Mount, Evan Reighard, Stephen Tingler, and Courtney Waters.
The graduates had just completed an 11-month college credit certificate course offered through SFSC's Emergency Medical Services (EMS) program. Paramedics work as part of an emergency response team called out to traffic accidents, fires, and other life-threatening situations.
Three students were recognized for special achievement. Kevin Alexander was acknowledged for having the Highest GPA in Lecture, and Nicholas Gregorio was recognized for having the Highest GPA in Lab. Courtney Waters was awarded with Most Heart, the student who showed the most determination and drive. 
Steven L. Ashworth, director of SFSC's Emergency Medical Services (EMS) and Fire Science programs, served as the ceremony's guest speaker and addressed the graduates. "If I can tell you one thing: I look forward to the day when I'm in need and I can look to a hero like you to take care of me," he said. "I have the utmost faith that you guys are going to do that and do it with willing disregard for your own personal health and safety which is no more than I would expect from anyone else. Thank you for what you do. Thank you for being a hero. And thank you for choosing SFSC."
SFSC also offers a 300-hour course leading to employment as an emergency medical technician (EMT). EMTs provide entry-level patient care as part of an emergency response team.
SFSC offers a two-year Associate in Science in Emergency Medical Services, which includes training in both EMT and paramedic programs. Upon completing this program, graduates can work in a supervisory EMS capacity. 
For more information, contact Ashworth at 863-784-7272 or ashworths@southflorida.edu.
Photo: The paramedic graduating class (from left, front): Kaleb Leon, Nicholas Gregorio, and Courtney Waters
(from left, back): Kevin Alexander, Robert Bohn, Michael Mount, Evan Reighard, and Stephen Tingler
Not pictured: Jamael Autry and Nicholas Minervini