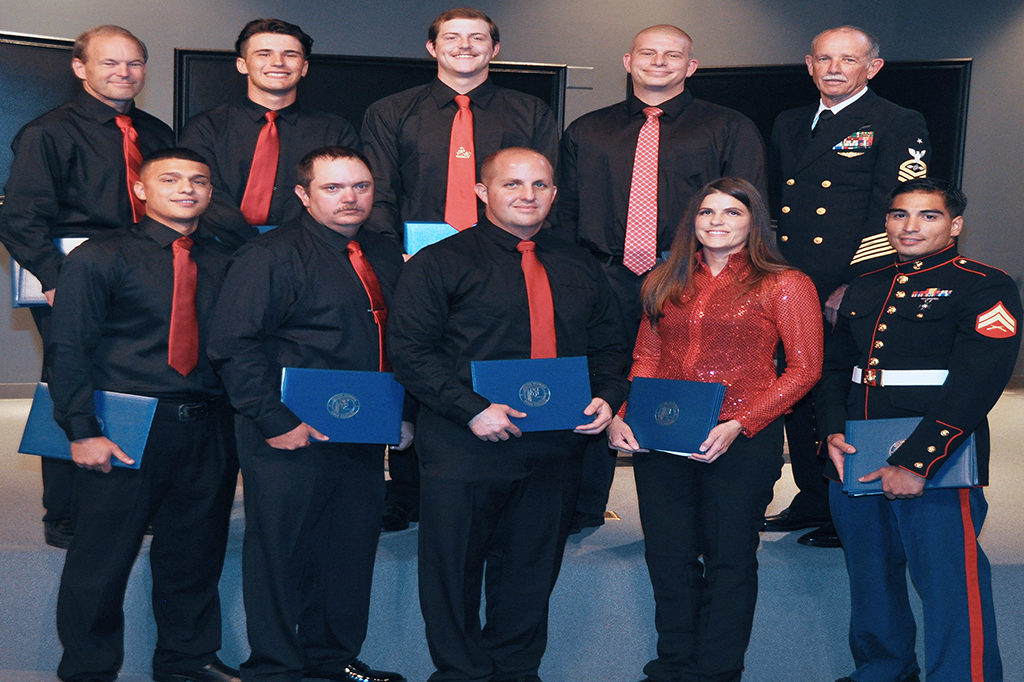 SFSC Graduates 12 Fire Science Students
South Florida State College (SFSC) graduated 12 students from its Firefighter Minimum Standards program during the Tuesday, Sept. 16 ceremony at the Highlands Campus in Avon Park. Receiving their certificates were Jeremiah Acosta, Keith Choate, Rachel Daley, Christopher Dunfield, Victor Gonzalez, David Holden, Frans Jansen, Timothy Langston, Dominic Matute, Isaac Mucklow, Joshua Sims, and John Stanton.
Five graduates were recognized for special achievement. They were Rachel Daley for Highest GPA, David Holden for the Platinum Award, Timothy Langston for Most Dedicated, Keith Choate for Most Heart, and Jeremiah Acosta for Best Class Leader. 
During the ceremony, Captain Paul Shannon, fire science coordinator, gave special recognition to two graduates in the class who have served in the U.S. military: Senior Chief David Holden, who served 24 years with the U.S. Navy; and Corporal Jerry Acosta, who has served 4 years with the U.S. Marines. He also acknowledged Commander Erik Christensen, who served with the U.S. Navy for 23 years.
Christensen, who is also SFSC's dean of applied science and technologies, was guest speaker for the ceremony and addressed the graduates. "For the past seven months you have trained hard, both in the classroom and in the field," he said. "More than 398 hours of hard work have gone toward learning how to respond to emergencies, extinguish fires, contain hazardous materials, and save lives. Classroom work challenged your mind while the skill training was physically demanding. We are confident that you are ready to take on the challenges of being a firefighter."
Christensen cited the bravery of the firefighters who lost their lives in New York City on Sept. 11, 2001. He said, "But it wasn't just on that one day that those firefighters were brave." He paraphrased Chief Edward F. Croker of the Fire Department of New York who stated in 1908, "When someone becomes a firefighter, their greatest act of bravery has been accomplished. What he does after that is all in the line of work." 
"I salute each of you graduates for your bravery," Christensen said. "I hope I never have a fire in my home or get in a car accident that requires emergency services. But if I do, I am confident that I will get the best service possible because of the positive influences this College has had on the training of firefighters in our area. Thank God for firefighters."
The Firefighter Minimum Standards occupational certificate program is for applicants who want to pursue a career in fire service but have limited fire training and experience. A cohort of cadets enroll in the Firefighter I course, often with the expectation of continuing through to Firefighter II training. Minimum Standards training is required for volunteer firefighters. Firefighter II training is required for those who wish to be employed as professional firefighters in Florida.
For more information about the SFSC Fire Science Program, contact the SFSC Advising and Counseling Center at 863-784-7131 or visit southflorida.edu.
Photo: SFSC Firefighter Minimum Standards Class (from front left): Dominic Matute, Joshua Sims, Isaac Mucklow, Rachel Daley, and Jeremiah Acosta.(from back left): Timothy Langston, John Stanton, Keith Choate, Frans Jansen, and David Holden. Not pictured: Christopher Dunfield and Victor Gonzalez