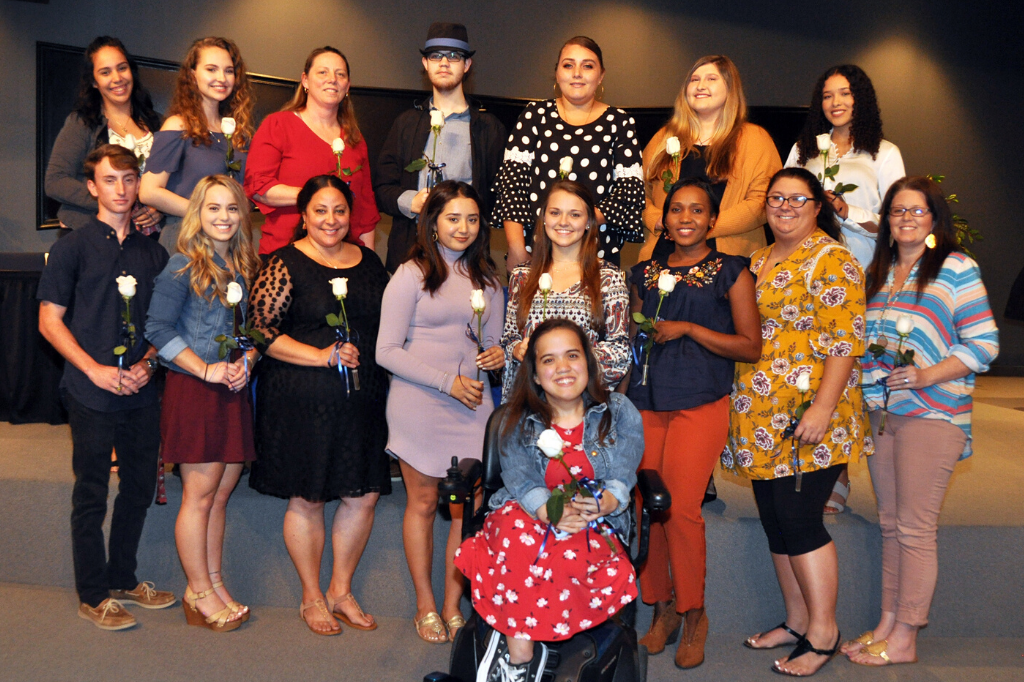 SFSC Phi Theta Kappa Scholars Inducted into Honor Society
South Florida State College (SFSC) inducted 22 students into its Tau Epsilon chapter of the Phi Theta Kappa honor society on Friday, Nov. 8, at the SFSC University Center Auditorium on the Highlands Campus.
With families, fellow students, and college administrators looking on, the students recited an oath of membership, joining the honor society that recognizes distinguished academic achievement by students in two-year academic programs.
Dr. Keith Calvedo, SFSC English professor, served as the guest speaker. He opened by telling the story of how his education allowed him to teach in Turkey, a country that is a culture of contrasts. He urged the inductees, when going forth into the world, to "be prepared, be adaptable, and maintain a sense of humor even in potentially stressful situations."
"Take advantage of the possibilities your educational achievements may provide you," Dr. Calvedo said. "Even if you do not visit or work in a foreign country, your achievements may open doors of opportunity for you in sometimes unexpected ways. In other words, your education will allow you to embark on new voyages of discovery." 
As the ceremony drew to a close, each inductee stepped forward to sign the Honor Society's membership book and record their status as a scholar of distinction at SFSC. As the auditorium lights dimmed, the scholars each lit a candle to signify their fellowship in the society.
The PTK inductees were: Elizabeth Becerra, Jesula Bellegarde, Jacky Bishop, Dawn Cain, Sonja Dale, Stephany Diaz, Estafani Espinoza, Jillian Febres, Julia Frost, Jim Gross, Andrea Guido, Rebecca Hale, Tonya Hamilton, Jessica Hampton, Noel Henry, Mayra Hernandez Martinez, Alana Lambert, Ethan Morton, Kelli Sullivan, Ashley Torres Vargas, Aleta Wells, and Isaura Zamora.
PTK is an honor society that recognizes the academic achievements of community and state college students and helps them to grow as scholars and leaders. The Society is made up of over 3.5 million members and nearly 1,300 chapters in nine nations. In 2018, PTK celebrated its 100th anniversary. For more on PTK, visit ptk.org.
For more information about SFSC's PTK chapter or Honors Program, contact Dr. Charlotte Pressler at 863-784-7247.