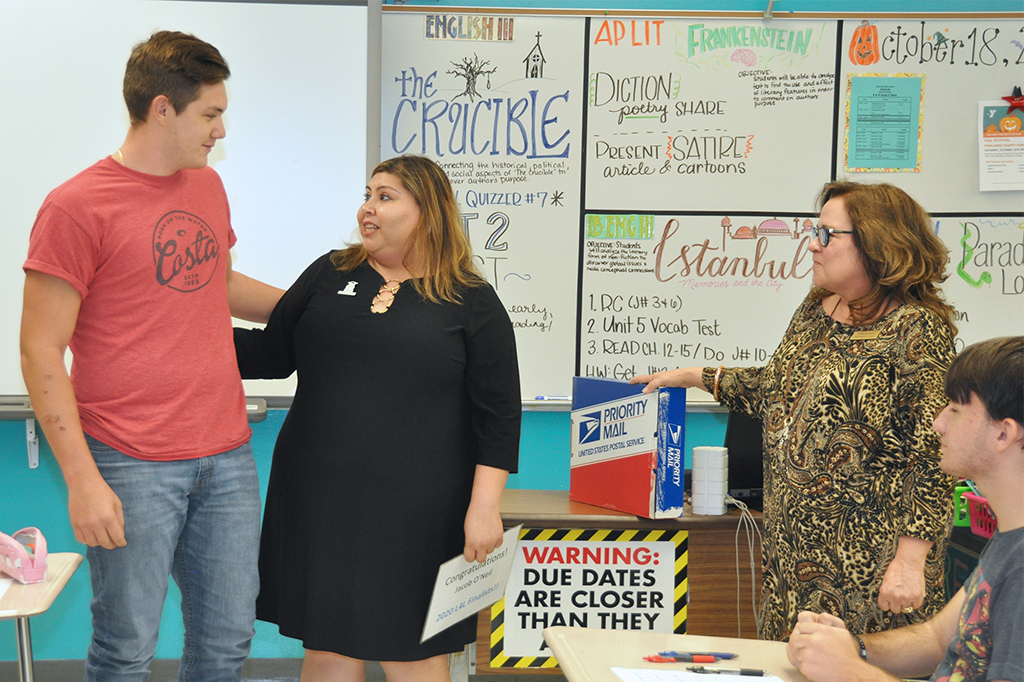 SFSC Take Stock in Children Student Scholar is Leaders for Life Fellowship Finalist
Jacob O'Neill, a senior attending Sebring High School, was surprised in his classroom when teachers, family, friends, and his Take Stock in Children mentor broke the news that he had been named a finalist for the Take Stock in Children Leaders for Life fellowship. He is one of 14 finalists vying for six Leaders for Life fellowships.
The fellowship, which recognizes student leaders, comes with a $40,000 scholarship that covers non-tuition expenses such as housing, books, and transportation. As a Leaders for Life finalist, O'Neill received a MacBook Pro laptop computer and has been asked to submit a video essay to be considered for the Leaders for Life Fellowship.
The Leaders for Life Scholarship is an initiative of the Asofsky Family Foundation, which supports programs aimed at helping the state's youth. The Foundation awards the scholarship in partnership with Take Stock in Children. The South Florida State College (SFSC) Foundation is the lead agency for Take Stock within the College's service district of DeSoto, Hardee, and Highlands counties.
"I cannot think of a student more deserving of this opportunity," said Danielle Ochoa, the local Take Stock in Children student services coordinator. "Jacob is humble and an extremely hard worker. He is a natural leader, who is always respectful and makes all those around him feel at ease. We at Take Stock are so proud and excited to have Jacob representing us in the community and at this stage in the Leaders for Life process."
O'Neill is eligible for the Leaders for Life Fellowship because of his participation in Take Stock in Children. Take Stock in Children is a statewide program that provides at-risk children with a mentor and a college scholarship. In return, Take Stock scholars sign contracts in which they promise to remain drug-free, to avoid behavior that would get them into trouble with law enforcement, to attend school regularly, and to earn satisfactory grades. The students' parents also sign the contracts and agree to provide home environments conducive to education. The local Take Stock program was established in 1996 and has awarded college scholarships to more than 491 local students.
O'Neill graduates from Sebring High School in May 2020 and plans to earn a bachelor's degree through the University of South Florida's (USF) MUMA College of Business. His ultimate goal is to join the U.S. Marines as an officer and become a member of the Marine Recon unit. Because USF offers an ROTC program for each of the armed services, O'Neill would like to enter its Marine ROTC program to prepare him for life in the military.
While in high school, O'Neill has participated as co-captain on the Peer Leadership Team which helps other students prepare for college by assisting them with college applications, financial aid, and college and career readiness. He has also held part-time jobs and challenged himself academically with dual enrollment, International Baccalaureate (IB), and advanced placement classes.
Thomas Nunnalee, who is a retired attorney, has served as O'Neill's Take Stock mentor since he entered eighth grade. "He was a very mature, highly motivated eighth grader and he's very impressive now," Nunnalee said. "He's been a supreme achiever from the very beginning. His grades are top notch all the way—he's conscientious in his studies. He also works part-time and is currently working at Sebring Diner. He's got a lot of irons in the fire."
Since the inception of the Leaders for Life program, the local Take Stock program has had 13 finalists and, of those, seven have gone on to become winners of the $40,000 non-tuition scholarship.
Photo: Jacob O'Neill (left) is congratulated by Danielle Ochoa, Take Stock student services coordinator, and Linda Roman, Take Stock college success coach.