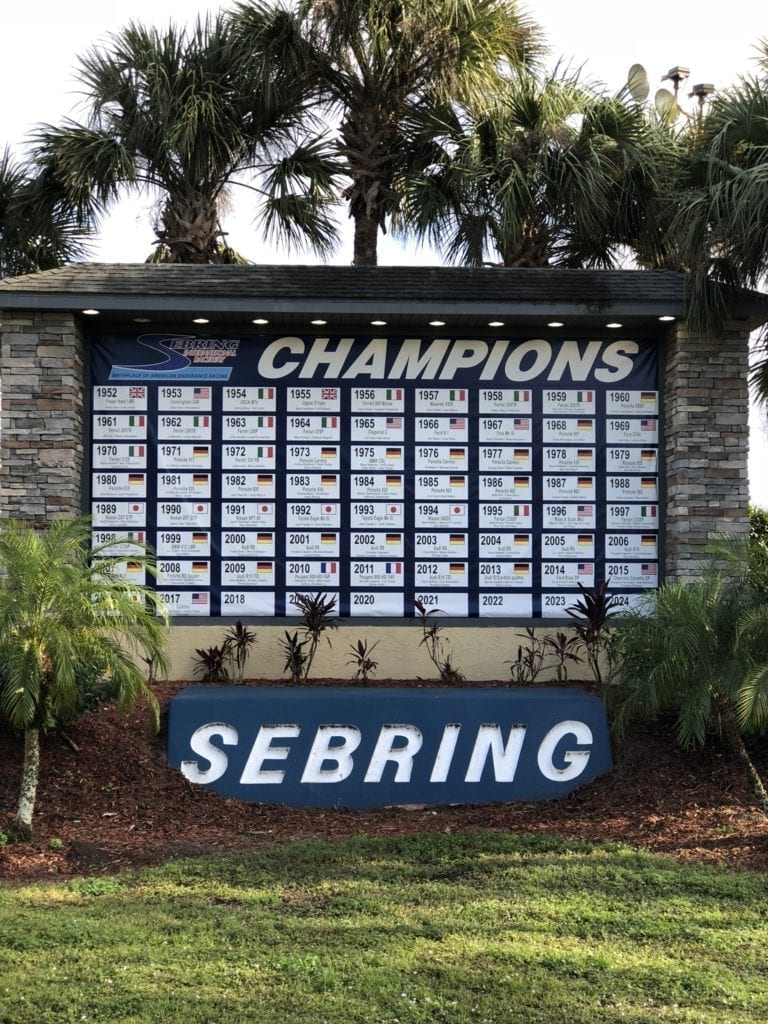 By James McCoy, Jan 18, 2018
In a little less than two months, the 66th running of the 12 Hours of Sebring will take place at the Sebring International Raceway. For all of our Highlands County residents who may not have ever attended this Historic race or perhaps you have been and would like to check it out again–did you know there is a 4-day pass available for only $50? That is almost half off the ticket for non-residents. These tickets give you a great deal of access including the paddock area. There is plenty of free parking with a complimentary shuttle to the track that runs throughout the event. The only catch is you must buy these tickets before February 24, 2018, and have an ID with a Highlands County address. You can call the track office at 863 655 1442 for the details.
The Raceway does not stay quiet the rest of the year. Three hundred days of the year there are a variety of events that take place and most are free to attend. Several motorsports clubs rent the track on the weekend such as SCCA, Chin Motorsports, PBOC and Chump Car. During most of these events, you can enter the midway for free and check out the action. Occasionally there are testing events that are closed to the public but are worth a quick drive-by peek. A well-received event that recently added to the line up is Thursday night drag racing. These are family-friendly events that you can check out for $5 and not only enjoy the cars, but there is food service available and scheduled food truck rallies. You can bring a blanket and folding chairs and make a night of it.
This facility also hosts several unique events throughout the year. Big Brothers Big Sisters of the Sun Coast hold their "Big Winter Fest" fundraiser on the grounds. As part of their annual event, Bike Sebring navigates their bicycles around the 3.74-mile track, and there is a "Run the Track" event sponsored by The Sebring Hall of Fame and Gold's Gym one week before the big race in March. As part of the raceway, there is the Gallery of Legends event space that in the past has hosted wedding receptions, family reunions, and awards dinners. For further details contact the raceway office.
Did you know that in 2019 the Sebring International Raceway will host back to back 12-hour race events adding to the activity of an already busy place? So if you're looking for some fast fun, check out the Sebring International Raceway and their website for their schedule of events at sebringraceway.com.