WHAT TO EAT, DRINK, & SEE IN THE 863!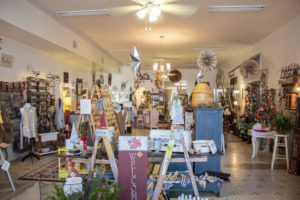 Bare Wood Market, located on North Ridgewood in downtown Sebring, is a one of a kind boutique specializing in hand painted furniture and trinkets of all kinds. They have handmade products from vendors all over Highlands County and Florida. 
Laura Young, the owner of Bare Wood Market, started refinishing furniture as a hobby while she was working in the school system throughout Highlands County. Her in-laws, who did woodworking and furniture restoration, introduced her to craft shows where she learned different techniques and styles from them. She started off making figurines out of wood, painting them and offering them for sale at the craft shows. Soon after she decided to start experimenting with painting furniture during that time and loved the results. "I found an old dresser at a garage sale and decided to paint it. I was able to sell that piece for a profit and I thought to myself 'wow this could turn into something'" said Laura. From that point she continued to paint furniture and sell it and also started getting requests for commissioned pieces. At that point she knew she needed a storefront.
At Bare Wood Market you will find Laura's hand painted furniture, handmade crafts and trinkets, handbags, as well as workshops and events. Bare Wood Market regularly participates in charity events to support Highlands County. Their most recent workshop had customers decorate Christmas trees and offered them for sale. All proceeds went to the Ridge ARC. Laura and everyone at Bare Wood Market wants to continue to give back to the community in any way they can with their workshops and events into the future. Stop by and browse their crafts, hand-painted furniture & ask about their upcoming events & support our local community.
Read More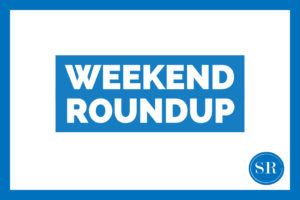 For February 28-March 1, 2020.
This weekend we will get to celebrate Leap Day! Does your family have any traditions or superstitions surrounding the day or the entire leap year? We've read that many cultures believe that leap year and especially leap day are somewhat cursed. In fact, in Italy, they refer to a Leap Year as a gloomy year. They also warn against weddings and other special activities because "Anno bisesto tutte le donne senza sesto", meaning "in a leap year, women are erratic." We got a good laugh out of that. We're still going to go out and have fun all weekend!
Are you an avid lover of Harry Potter? Head down to the library at South Florida State College and represent your house during Hogwarts Colloquium & Celebration! Play games, make crafts, and earn house points! Combine the magical world of Harry Potter with an array of Undergraduate Research. Become immersed in Hogwarts from 9am-4pm on Friday and help your house earn the House Cup! 
Fresh and delicious! The Lake Placid Farmers Market is open Saturday from 8am-1:30pm and will have a little of everything you're looking for! Local Florida produce, artists, fresh food, plants, and music while you're there!
Are you a DIY extraordinaire? Are you eager to DIY but don't know where to start? All DIY lovers are welcome at The Grateful Hearts! This Saturday, they're hosting some Morning Fun! Choose from a variety of projects including signs, centerpiece boxes, photo frames, trays, and so much more. Choose an adorable spring or Easter themed design and customize them for exactly what you want!
Ready for an out of this world show? Blue Jupiter is coming to Wildstein Center for the Performing Arts at South Florida State College Saturday night at 7pm! 4 mouths, 4 mics, and nothing else. Broadway meets a cappella in this stunning show with incredible talent! You won't want to miss this show!  
We hope everyone has a fantastic leap weekend! Take a selfie while you're out and about and use the tag #SRundown to show us what fun you've been up to! Check our calendar HERE for more events throughout the month!
Are we missing events on our calendar? Send the details of your event or your company's event to events@sebringrundown.com.
Read More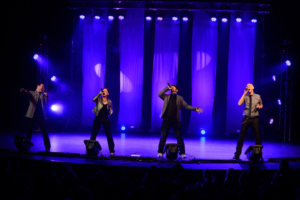 Four mics. Four mouths. That's it.
Blue Jupiter is coming to the Wildstein Center for the Performing Arts this Saturday, February 29, 2020 at 7pm. This incredible performance will show the pure talent of the international sensation Blue Jupiter. They use their voices and nothing else. No instruments, no tracks, just voices. They create the melody, the harmony, the backbeat; everything is made from their own mouths. Blue Jupiter is the cutting edge of a cappella. Their high energy and incredible talent and love of music truly shines in their performance. 
Think you recognize them? You probably do! Since their start in 2001, they've been on Oprah, Lifetime TV, and they're even the voices behind the OREO Cookie commercials! They have had the opportunity to work alongside artists such as Owl City, Third Eye Blind, Andy Samberg, Pentatonix, and more! Blue Jupiter has even had the great fortune of performing for brands such as Disney, ABC Family, Honda, Blue Cross Blue Shield, and many more! They have been to numerous countries across the globe and have performed in nearly every single state! 
Upon being asked about their favorite performance, female powerhouse lead singer, Diana Preisler refers to getting to sing for the troops; "the Fourth of July performance for 10,000 US Troops and families stationed at the Kadena Airbase in Okinawa, Japan." Leaving the second spot to "the time we sang for the Princess of Thailand and the ruler of the Philippines on New Years Eve in Hong Kong." Gene Simmons from KISS calls Blue Jupiter "the real deal". 
One night only, performing in Avon Park, Florida, this is a show you'll regret missing! You can get tickets online HERE. You can also call the Box Office at 863.784.7178. Kids tickets are only $10! Remember to support the arts so we can keep them!
Read More

UPCOMING EVENTS
Would you like your event considered for our events calendar? Send us an email to get started by visiting About Us. 

Upcoming Events
There were no results found.
GET THE LOCAL RUNDOWN, FAST
We publish fast & fun facts on what to eat, drink & see that can only be experienced in the heart of Florida. Our goal is to bring an already close-knit community closer together and to encourage a spirit of creativity and collaboration.
In addition to this site, we also send a handcrafted email newsletter weekly that will give you insight on what to eat, drink, and see in the 863.
Follow us on social @SebringRundown & use #SRundown for a chance to be featured!
Tag us in your adventures around Sebring, Lake Placid & Avon Park! #SRundown!